Greetings! Thanks for checking out the bio. The "one" call came from Massachusetts back in the early 80's while I was attending Dental School in Boston (a great college town, best in the US). It wasn't a vanity call.
My world in Hammy Radio started in the late 70's when a group of us "10-4 Good Buddies" decided to get a brisque of fresh air, so we all got together and went to Gordon West Ham Radio School to study for our license.

I started out pretty much like everyone else - Chasing DX, County Hunting, Award Chasing, Digital Modes, Moon Bounce, etc. After a while, things got old so I switched gear and went into Hi-Fi Audio on Single Side Band, known as ESSB (Enhanced Single Sideband). Once entered into this mode, there is simply no turning back :)
All of this started back in the early 2000's when I picked up a Shure dynamic microphone and decided to try it out on HF for a change. One thing led to the next and before all hell broke loose, I went from a modest set up using the W2IHY equipments, to a full blown pro-audio rack system.
Current HF station consists of a TS-990 and an FTDX-5000. Amplifier is the Alpha 89.

Antenna is a 10 element wire beam for 10,12,15,17,20M by OPTIBEAM. This is truly an amazing antenna. It has a small footprint yet BIG performance. The quality and workmanship of this antenna is superb. I consider this antenna to be my best investment out of all the hammy radio gears. It is on a 61 ft crank-up, free standing tubular tower by Wilson. For the lower frequencies, a Mystery Antenna makes enough QRM on 40/75M.

Current audio rack consists of a DBX 286A, Behringer DEQ-2496 and EX-3200. Microphone is an Electrovoice RE-27N/D.
You can find me mostly on 20m below 14.200 Mhz and on 17M or join me on Facebook :)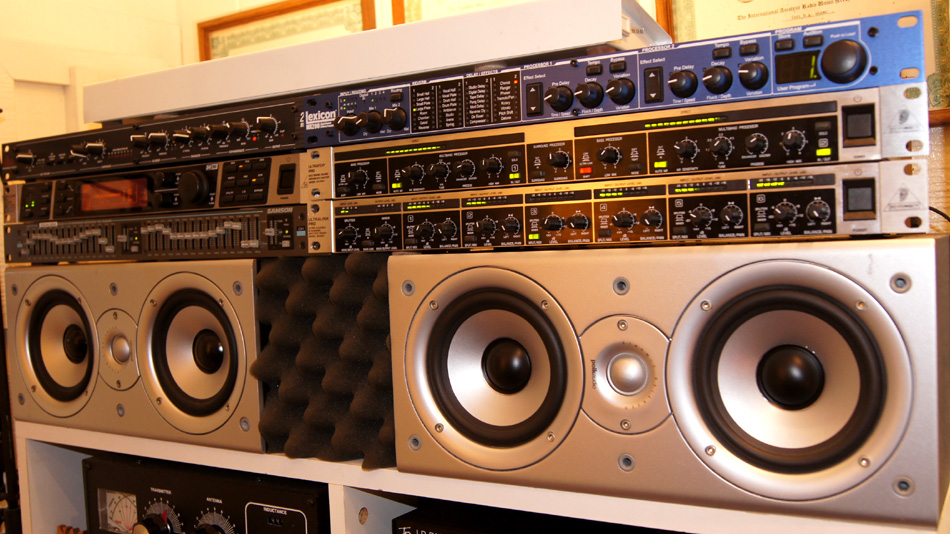 Audio Console: Behringer, DBX, Lexicon, Samson
Powerful 95W/channel High Current Integrated Power Amplifier
Five band OPTIBEAM on a 61 ft crank-up free standing tubular tower