Currently Chief Engineer at www.Palomar-Engineers.com - please check the website for RFI kits, Antennas and accessories, Baluns/Ununs, Ferrite beads, toroids and downloads of Palomar manuals from the past products as well as lots of hints for antenna installations for vertical, dipoles, ladder line doublets, G5RV, loops and end feds!  I have given many club and hamfest presentations including: ABC's of RFI. You can download the slide show  and many other presentations I have given on the Palomar website, or better yet, come see a live presentation at one of the hamfests in the SouthWest.
AK6R Biography (as remembered)
I was first licensed as WN6QFA and WB6QFA in about 1963. (I had both novice and technician class licenses at the same time). My elmer was Bill, WB6KZO long since an SK due to a deer hunting accident (the deer won). Bill ran a BC-610 that was taller than me and I was so very much impressed. He sold me a Viking I which was painted a forest green front panel and it came with 20 crystals for 80, 40 and 15 meters. Just what a 15 year old kid needed to get started. I also had a Knight R100A which I laterupgraded to a brand new (read paper route money) Hammarlund HQ-170AC and I used both rigs for many years on CW and evenutally 80 meter AM with the then "old timers". Now I am an "old timer" and also a life member of ARRL and proud of it.  If you don't have a ham license, get one - it will make a big difference in your lifelong friendships!
I later upgraded to advanced class around 1984 and was issued KB6QC. I also got by First Class commerical at age 18 (which I still hold). I finally upgraded to extra class and was issued AK6R about 1997. Passed the code in front of an examiner (W6YOO) and finally got the lower 25KC's of the bands and started serious contesting efforts. I also hold a General Radiotelephone Operators License (GROL) which is required to adjust, maintain, or internally repair FCC licensed radiotelephone transmitters in the aviation, maritime, and international fixed public radio services.
Been very active in contests (CW, RTTY, SSB) and now restore old tube gear and get on CW, AM and SSB regularly on 80 and 40 meters.
Last contest won: Oceanside Yacht Club Ugly Sweater Contest: My sweater said "We Fish You a Merry Christmas".  Sidekick is my partner, Suzy Kline.  We have been lifetime boating people with many Catalina sailboats and our most recent, a California 48 twin diesel powerboat.  We are currently boatless, but enjoy crusising on boats of our many boating friends out of the Oceanside Harbor in Southern California.  We are always looking for new crew positions where our ham radio, cruising, and cooking experiences are useful.  Cheers and Beers!
Previous boats include Catalina 27, 30, 36, 42, Tayana 32, California 48 - each with a different experience but fun nevertheless. 
My current station is shown below in the pictures and I enjoy Vintage SSB, Amplitude Modulation International (AMI) nets and also the weekly swap nets on 7240.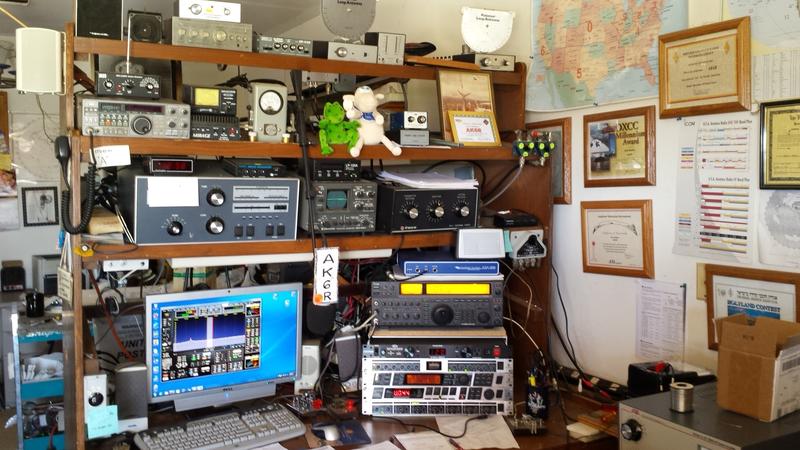 I use two Flex Radios - a 5000A with VHF/UHF modules, and a Flex 3000 and an Icom 775DSP on AM, SSB, CW and RTTY.  The radios drive the Alpha 86 to full legal limit in all modes. The common microphone is a Rode NT1 (behind the AK6R sign) condensor microphone on the boom strut.  I process the audio through a variety of stages including a Behringer preamp, DEQ 2496, Virtializer and Mixer/splitter that feeds the balanced line inputs on the back of all the radios.  I also use an Icom 756 PRO II on six meters and for portable operations along with the Palomar Engineers Bullet end fed antenna for 80-10 meters. The antenna tuner is a Swan ST-1 with tapped inductor and the monitor scope is a Kenwood SM-220 which I like better than the 230 version which will NOT show a trapezoid pattern for linearity.  Wattmeter is a LP-100A which works great!
Here is a closeup of the audio rack:
Some of my previous AM rigs shown are shown below:
The AM rigs include a HQ-170A + Viking Invader 200 or the Collins 75A4 and Johnson Valiant. I can switch any of my rigs into the rf driver chain which is amplified by the Alpha 76CA linear amp. It takes abouts 100 watts of output to get 1500 watts output from this amp. I usually run about 20 watts carrier output on the Yaesu FT-901DM on AM for about 250 watts dead carrier output on the Alpha. The output of the Valiant I run direct to the antenna as it is usually enough to work the local nets.
I recently added a homebrew 813 linear made by N6ZU - it puts out over 750 watts from 80-15.  Here is a picture of the "Vintage" Studio "B" side of the shack:
Here is a picture of my Yaesu FT101E vintage SSB station that is used to check into the Vintage SSB net on 3.895 on Tuesday nights.  We also simulcast video on www.Tinychat/vintagessb so we can see and hear the other net participants at the same time!
Another recent (2015) acquistion is the very rare Swan 160X, a 160 meter only Swan transceiver and it works very well on SSB and AM.  I am using a D104 high impedance mic and audio reports have been excellent.  RF output is fed to the Alpha 76 and the antenna is  a Palomar Engineers 160-6 meter off center fed dipole.  See you on 160!
6 Meter and 2 Meter SSB Station
Current antennas:
I use the Icom 756pro II on 6 meters and the Kenwood TS711 and a 180 watt amplifier into the M2 12 element antenna.  Also active on 440 FM with a converted Motorola commercial radio.
I also like to work many contests and also Field Day which got me started in ham radio in the early 1960's (Fresno Amateur Radio club).
Here is a field day photo of me as captain of the 20 meter band SSB operation.  We stayed on 14.175 for the entire contest - over 1800 Q's using a stacked pair of 20 meter beams on a tower trailer and the Icom 775 transceiver.
I restore and repair a lot of my own rigs and also for other hams. Here is a picture of the test bench with an HW-12 and a Kenwood TS-900 (my rigs) waiting for restoration. Also currently working on a Heathkit HW-18 for 160 meters.
A recent customer brought in a silver chrome Viking Valiant which is unique and beautiful.  here is a picture if you have never seen one:
By
TOWER TRAILER
Info and typical configurations of the tower at: http://www.qsl.net/ak6r/tower%20trailer.htm
We are also the proud owners of Palomar Engineers, previously owned by Jack Althouse, K6NY who became an SK in September 2013. He will be missed by all who he touched as Kurt N. Sterba and with his many Palomar Engineers products. Visit the Palomar Engineers website at www.Palomar-Engineers.com - many of the older product manuals are now available for download on that site.
By the way, if you need vacuum tubes for your rigs I get mine from www.tubemeister.net which is run by my better half, Susan Kline (ham to be). She has tube kits for over 1,500 rigs for hams, musicians and audiophiles.
My antenna farm consists of an 80 meter loop up about 40 feet on average. We live on 5 acres in Bonsall California and have a very low noise factor - often S1 or less. QRN can run up to S9 at times but signals are usually +10 to + 25 over S9 making copy very easy.
Catch me on AMI on Monday nights at 7Pm on 3870, Tuesday nights at 7PM on Vintage SSB on 3895 and California AMI on 3870 on Wednesday at 8 PM. I am also on the Drake net on 3895 on THursday night (7 pm) and the Collins Collector Net on Friday on 3895 at 7 PM.   All the nets are simulcast on video (USB camera in each participating shack) on www.tinychat.com with various chat rooms as follows:
AMI is www.tinychat.com/AMIwest
Vintage SSB is www.tinychat.com/VintageSSB
Drake net is www.tinychat.com/Drakewest
CCA is www.tinychat.com/CCAWest
Cant hear the net or on a trip and still want to participate?  Then log into into the internet chat rooms above and hear the net audio, see the operators and discuss relevant topics of the night.  Use your callsign as your guest login so we know who you are.
On Saturday and Sunday I am on the West Coast Swap net at 12:30 local on 7240. You can eyeball me at the Claremont swap meet on third Saturday or TRW on last Saturday of each month.
My First QSL Card image:
My email is ak6r@yahoo.com. I also have a website at www.qsl.net/ak6r and www.ak6r.com which describes many of my contesting activities.
73's
Bob, AK6R